Student Taskwork:Background Animation
Although it's certainly possible to teach yourself how to use a variety of animation programs, we recommend that anyone who is serious about pursuing a career in this field enroll in a Blender background course. We've found that the students who take our Workshop do much better in our other animation courses than those who struggle to learn Blender on their own.
Instead of learning by trial and error, our mentor-led workshop gives students the instruction they need to master this software without wasting precious animation time.These students are thoroughly prepared to use the software and they can focus fully on what's really important when taking our core animation courses: learning how to become a great background animator.check Wingfox student taskcase in Animation Background Concept Design in Blender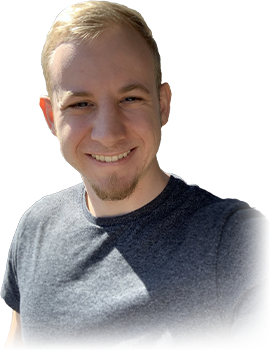 "Art and animation has been a part of my life ever since I was young kid. Cartoons, anime, and video games have played a big part in my life growing up inspiring me to get to where I am today. I went to college for animation and while going through the years I realised I wanted to do backgrounds. In my last year of college, I focus on this aspect. Over the next few years after college I spent my time working part time jobs and doing online mentorships to further my knowledge about backgrounds and getting into the industry.

My last mentorship was spent focusing on a project geared towards applying to a powerhouse animation position. I applied and everything worked out! Took and art test and passed and here I am today."
Series Work:

Seis Manos, Blood of Zeus, Masters of the Universe, Castlevania, Tomb Raider(current project).'
Other unannouced projects
Smaller Projects: Crystal Geyser Commercial, OfflineTV Breakout Music video, other unannouced projects.
You can learn the entire process for creating backgrounds in an animation setting. This course will mainly be based on my series work done with Powerhouse Animation Studios. We will go through the concept design phase, which is mainly a back and forth between sketching and 3D modeling. Going further in depth with modeling, lighting and rendering using Blender. Finding compositions within the model based on our script description, we will render out a few images to take to final painted backgrounds. Plus a bonus of adding in simple characters and final image adjustments.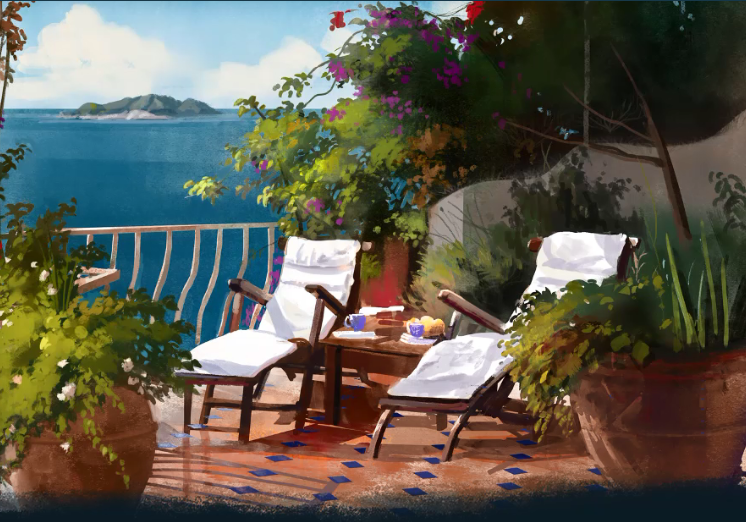 Course Plan
Chapter 1-Research
Explaining the overall process for animation BGs, what will be needed in the scenes based on the given script and general mood. Finding optimal reference and setting up a mood board. Taking notes on what's important to pay attention to.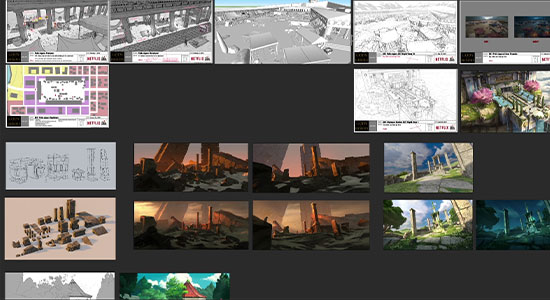 Chapter 2-Concept design
Initial sketching and exploration: we will do some simple studies based on the gathered reference images, then we will paint and sketch quick black and white compositions for potential scenes as well as general props that might appear.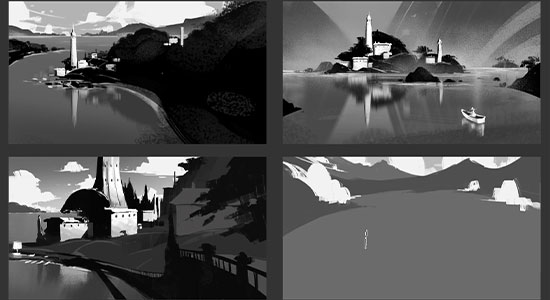 Chapter 3-Modeling
1. Creating a 3D block-out: Here we will create a basic textureless blockout to serve as a base layout for our overall design and placement of elements that will be in our backgrounds.
2. Sketching with 3D base: Using the 3D as a base to further our design ideas in photoshop.
3. Designing Individual elements and kitbash modeling: Using blender and photoshop to create our set dressing. We will design buildings, columns, vases and statues and many other individual elements we will use to form our backgrounds.
4. Dressing the scene with foliage: Making simple trees and bushes as well as utilising add-ons and quixel to fill the environment with vegetation and give the project some life.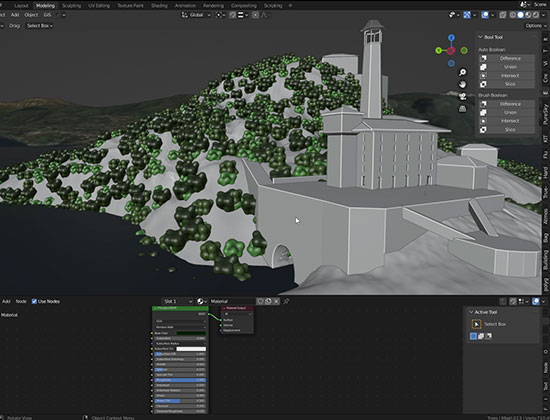 Chapter 4-Texuring, Lighting and Rendering
Lighting, atmosphere and rendering: Explaining how to set up lighting and atmosphere and the settings I use for rendering images we will use to paint our final backgrounds with.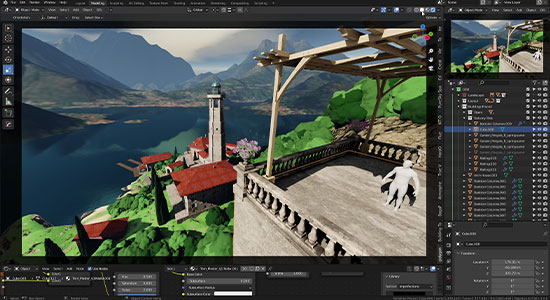 Chapter 5-Final Illustration
1. Painting final illustrations: This is where we will take our rendered scenes into photoshop and paint over the 3D. Utilizing the different render passes to our advantage.
2. Making final presentation: Adding final touches. Painting / drawing in some characters and playing with color and light adjustments to give us the best possible look.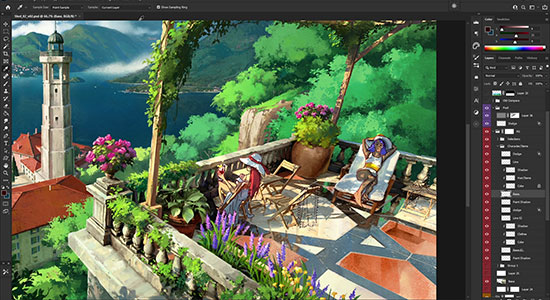 ---
Photoshop Tips: Create Realistic Lighting
Lighting is one of those things that can make or break an illustration. It can set the mood, establish photo-realism, tell a story, and even guide the viewer into certain areas of your work.