Concept Art: Creating a Portfolio
A great concept art portfolio can mean the difference between finding your dream job or not being noticed. Regardless of whether your work is the best it can be, failing to put together an attractive concept art portfolio could ruin your chances of getting hired by an established studio.
So, for you to better showcase your abilities and characteristics, here are some tips to make you better at creating your portfolio, remember to grab your little notebook and jot them down.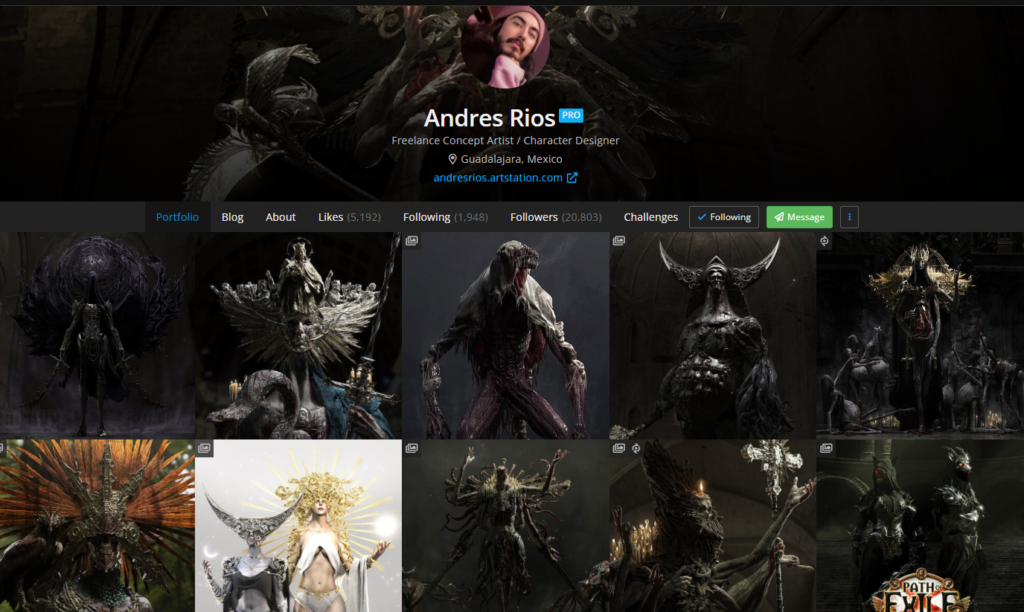 1. Demonstrate quality
One of the first and most important things for any portfolio is quality.For example, if you want to get an industry job, you should have a portfolio that is industry standard. This means that the quality should be high enough so that you can show any visuals and any ideas that you want to show, as well as show others any ideas that you want to show.
It's not in the art industry to be able to understand those ideas. You always want to maintain quality and anything that you can show within that quality put it into your portfolio. It's your best work.
2. Keep focused
Your portfolio should be focused on what you like to do. For example, if you're a horror artist and you like tough monsters and creatures, then you'll drop something cute in your portfolio and get a job drawing cute things that you don't like. That's probably not the best path forward. There is a balance between what you like and the type of work you want to get.
You need to make sure your portfolio looks like something that can be used in the industry. Versatility is great, but you don't want to stretch yourself so thin that you lose the quality of your work.
10% OFF COUPON CODE: blog10
3. Never forget the fundamentals
The fundamentals need to be seen in the portfolio. So, understand perspective, composition, values, lighting, color, anatomy, and function. It's really important to show these things in some way. Fundamentals are fundamentals, and if you know anatomy, you know it. When you show a character, you want to get the anatomy right and placed inside the 3D space and perspective, and you want to get a really good composition.
4. Show your process
The process is a must. You want to imagine that the person viewing your portfolio knows nothing about you and your work, and the only thing they can see about you and your expertise is the work you are presenting. If you are going to show amazing final work, then you can do some interviews and of course.
You can get the job, but it is even better if you show how you got the final result. Show sketches, thumbnails, mood boards, work in progress, write down some notes to give us an idea of your workflow and what your process looks like. If you can, always include at least the starting sketch and then the final piece. But of course, the more the merrier.
5. Storytelling
Storytelling is one of the most important manifestations of the role, even if it is just a role with nothing to do. Storytelling is the most important. If you can get an element of storytelling in a character or setting or several consecutive images. Storytelling is really important because we all grew up on stories and the whole human race grew up on myths and legends. The entertainment industry is based on stories, cool effects, and lots of explosions, but underneath all that is a powerful story. So every piece of work should tell us some kind of story.
6. Maintain uniqueness
The uniqueness of being yourself is one of the best things you can do. You want people to get to know you by what you do. If you're everywhere and it seems like you're trying to appease everyone, then you lose that quality, you lose that edge, and you lose your uniqueness.
7. Display your technical skills
In sketches, you can show your understanding. If you are working in an environment and have perspective lines, vanishing points in the sketch, this will show us that you understand perspective. Or, if you are working on an action scene where a character jumps and does crazy things, we can see in the sketch that you took the time to understand how muscles work in different positions in 3D space, and it's nice to see that you understand the reasons for these decisions.
If you are studying riders on horses, get a few horses from the internet and study how the horse's skeleton works and show us these studies. Through these studies, we can see your dedication, professionalism, and understanding of the subject. This is important to us.
8. Quantity of work
Your portfolio will help you show your work to others and ultimately help you get the job you are looking for. To become a conceptual artist, you need a portfolio, just like any specific type of art. Make sure you showcase your talent, demonstrate your ambition, and highlight your best abilities in each piece of work. Your goal should be to include about 20 pieces of your best work.
9. Find the right niche
When you apply for a job opening, make sure your work is relevant to it and fits the criteria. For example, if you want to work on a specific team, say: a storytelling team, you need to showcase your storyboards in your portfolio. Portfolios should consist mainly of storyboards, as they demonstrate your authenticity, strength, and talent in the field.
In any case, your portfolio should contain the work you are most confident in, not any work that is unrelated to the subject matter. Therefore, if you want to apply to be a character designer, do not mix your portfolio with a lot of logo design or graffiti. You should create enough samples of the character art in your portfolio.
If you don't manage to get in the first time, it may be beneficial to apply for a position over and over again. Just make sure you are adding to your portfolio and make sure it is at least a little better than last time. If you are willing to get the job, you should work for it.
It may be hard to understand how to go about it at first, but with patience and some online research on the subject, you'll end up with amazing results!
Of course, you still need to better arm yourself and keep improving your skills in art.
Wingfox offers various digital art tutorials, so you can choose the right one to learn and improve, add more excellent works to your portfolio and increase the possibility of getting a job.
Iknow it's not easy to create fantastic conceptual art, and it's not easy to be an artist. Concept art is not a one-size-fits-all task. It requires different moods, designs, creativity, touch, and feel. After a while, you will figure this out and then choose the tools that are best suited for the job. If some techniques can obviously save a lot of trouble, they should be very popular.