Drawing Tips for Beginners: Learn Human Anatomy
It is a very normal day again. You are drawing on Photoshop as usual. But when you have to draw the body of a figure, the revisions don't work as well as you would like many times. You are painfully aware that almost all your drawings and sketches are severely lacking in proper anatomy. These figures usually look unnatural, distorted, deformed, etc.
I have to tell you that you have to study the anatomy of the human body.
Why do I study human anatomy?
For the artist, the study of human anatomy can be as simple as learning proportions and working from life, or as complex and intricate as mastering an understanding of human skeletal, muscular, and surface structures. Artists pursue anatomical drawings to learn how to draw human forms that appear in various positions or poses. Often, an artist's anatomy revolves around creating detailed anatomical drawings and anatomical sketches which can be referred to in the studio.
Why is anatomy so important to art?
Anatomy is a fundamental part of art education and artists are a recognized part of the market for anatomical illustrations.
The study of human anatomy is significant for artists because it helps to understand the muscular and skeletal surfaces of the human body. It helps the artist create realistic figures that appear to have actual mass and volume.
There is much to human anatomy. Although we live with the human body, many parts of our bodies remain a mystery to us. Because we don't take the time to understand our body, its components, and how it works, it can be difficult to get it right when depicting the body through art. There are so many small details in the human anatomy that it can be a challenge to draw them well.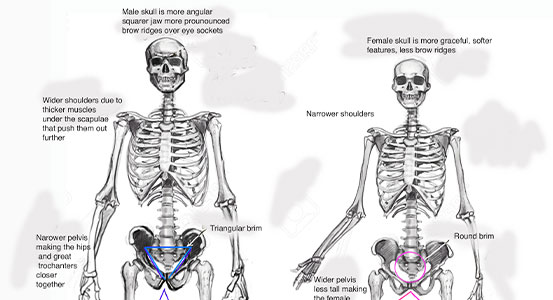 When learning how to draw the figure successfully, understanding human anatomy is key.
1. Don't think like an anatomy book
Drawing human anatomy for beginners can be overwhelming at first because there are so many muscles on the body. When you're looking at a model and you see a lot of lumps, you may want to pull out an anatomy book to decipher what's going on under the skin. You can also check out the article: Making Anatomy Simple
An anatomy book is great for telling you what you're looking at, but it's not very helpful for telling you the three-dimensional shape of the muscles.
2. Do simple thinking
When you first approach graphics, you need to start by building the basic volume of a drawing using spheres, boxes, and cylinders. By simply starting with these basic shapes and then gradually increasing the complexity as you go along, you will be able to make your drawing maintain its sense of dimensionality. Artists need to consider the 3D shape of the muscles to give the illusion of volume to the figure.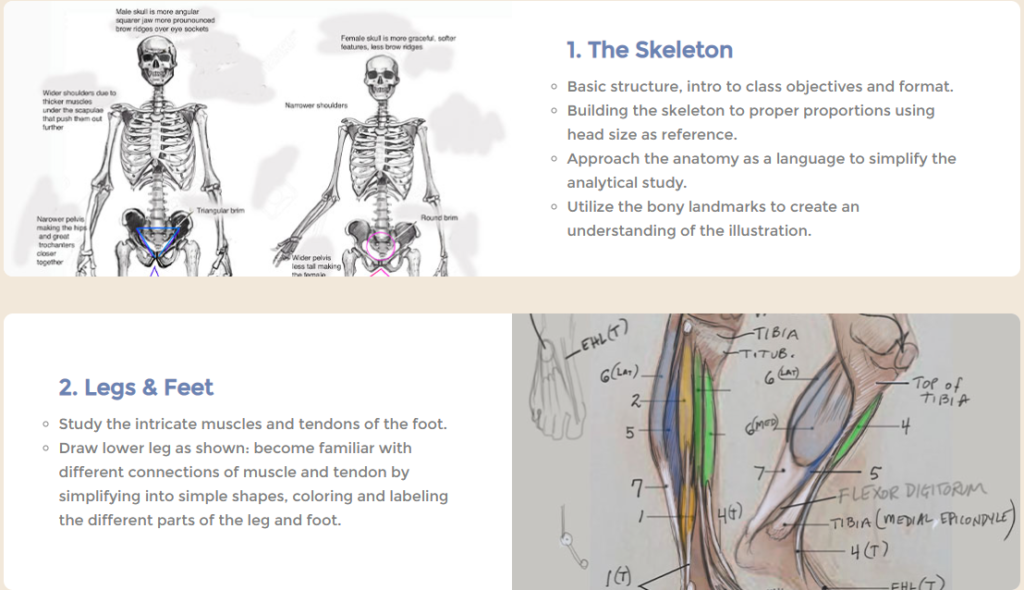 3. Don't let muscles be the focus
When artists first start paying close attention to adding anatomical structures to their paintings, they often tend to overemphasize them. These figures often end up looking like they have no skin. The muscles are there to add more realism to the figure, but they should not be the focus of the painting. The focus of the drawing should convey an action, an emotion, or the personality of the subject. You don't want the viewer to stop and look at individual parts of the drawing; you want the viewer to see the whole figure and be interested in what that figure is doing and who he or she is.
4. The unique construction of the figure
As you build your graphics, you must look at and adapt your shape to fit the particular subject you are drawing. Bodybuilders don't use the same body type as sumo wrestlers or distance runners.
You have to look at your subject and figure out which simple shapes are the best tools to develop your body shape. For example, some people have very square heads and need to be made up of box shapes, while others have more rounded heads and should be made up of spheres.
If you copy the outline before you build the structure, I guarantee you will end up with a flat drawing.
5. Don't copy what you see
If you only copy what you see, you will never create what you imagine. I have never seen the point of copying a photo in a drawing, other than to exercise observation skills. You start by capturing its movement in gesture, reconstructing the figure in three dimensions using basic spheres, boxes, and cylinders, and then sculpting these simple shapes into anatomical forms. It's a very different process than just copying what you see.
6. Proportion and anatomical structure
Anatomical structures and proportions are important. But on their own, they do not make for an interesting drawing. A figure drawing that feels like it has a personality or looks vibrant will be more interesting than a technically correct figure drawing.
Let the human anatomy and proportions aid in the underlying gesture drawing. Every step of the drawing should be about creating a unified figure with energy and attitude, even if that means changing the proportions or anatomy of the figure to better emphasize that action.
It's time for you to learn about human anatomy systematically.
Professor Rey Bustos will teach you the various focuses of human deconstruction. By completing this tutorial, you will have a deeper understanding of human anatomy and master the concept of drawing, allowing you to create a variety of works based on your imagination.
Rey Bustos
Associate Professor
Associate Professor at Center College of Design (Pasadena CA) Los Angeles Academy of Figurative Art 2004 to present, and Associate Professor of California State University, Los Angeles 2005-2012. In 2021, he published his substantive book: Rey's Anatomy: Figurative Art Lessons From the Classroom.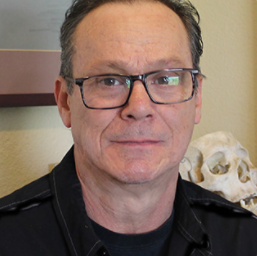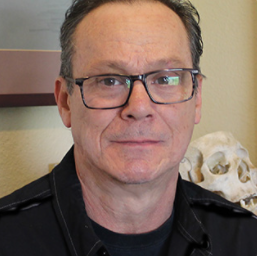 Do you want to draw those crooked, weird, unnatural drawings again? For more information on human anatomy, check out this Wingfox tutorial. You will benefit a lot. By the way, don't forget to use [blog10] to get a 10% discount. Come and learn!
[Workshop Fundraising] Human Figure Drawing: Artistic Anatomy