His Card Illustrations Are "Work of Art" And Could Be Simply Done with PS!
In recent years, the rapid rise of e-sports has led to the development of a number of new game design professions, including professional game illustrators.
The various types of games they designed can be perfectly combined with illustration art. Among them, the most representative is the card game. These games combing with art are really charming.
This is very much in line with the current needs of the eye economy. People are having higher aesthetic requirements for images, and various card illustrations can undoubtedly be well integrated with the aesthetic needs of the public.
How to draw card illustrations?
There are mainly two methods to draw card illustrations: traditional hand drawing and the currently popular digital drawing.
It can be seen that, compared with hand-painted watercolor illustration works, the lines of digital drawings is sharper, and the visual penetration of colors is stronger, which leaves a deeper impression to the viewers.
Moreover, because the digitally drawn card illustrations have sharper and clearer lines, they can still be seen clearly even when the picture is reduced to a size suitable for games, while the hand-drawn illustrations will be grayed out due to the shrinking of the picture, which reduces the recognition.
Therefore, computer-drawn illustration works are easier to apply to specific goods and services, reflecting the advantages of digital painting.
If you also want to draw exquisite card illustrations to create more room for future career development, then we suggest you learn from professional masters, for you could not only learn it efficiently but also avoid misunderstandings that come along the way with self-study.
Here Wingfox and artist NEMO jointly launched the card concept illustration "Exquisite Illustration Tutorial for Trading Card Game Design. This course explains how to use digital painting to complete beautiful card illustrations.
In the course, lecturer NEMO will combine actual cases to explain the complete process of portraying card illustrations without reservation, and will put forward some key ideas and ideas during the drawing process.
Course video introduction
Ingenious illustration artist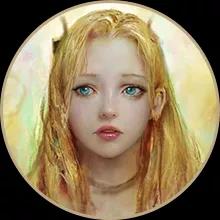 NEMO is a concept artist good at atmosphere creation, rendering, and exquisite realistic refinement.
After working in China for nearly 3 years, he then went to Korea to engage in conceptual design and illustration work for nearly 5 years, mainly working on likanimation, game, atmosphere concept map design, as well as illustration and conceptual design.
NEMO participated in projects like"Chrono Odyssey", Sword Spirit, dnf, capcom, Monster Hunter, National Super God, Swordsman Love III, SMITE and so on.
Lecturer's works
The course involves various important character painting knowledge, including human body, grayscale, light and shadow, color, composition, material expression, etc. Understanding these painting knowledge and techniques will greatly improve your painting art!
Detailed and complete production process
1. Preliminary preparation and refining information
In the first stage, lecturer NEMO will first teach everyone how to observe and refer to pictures when drawing, how to extract what we want to express, and then put it into our own creation, and then he will discuss the use of color and light.
2. Sketch
In this part, lecturer NEMO will give a detailed introduction to the drafting method, and then explain how to draft the character and some points needing attention.
3. Design modification and head refinement
After completing the previous basic parts, this stage will be focusing on beautifying the character, including the design and modification, and further refinement and coloring the character's head.
4. Background adjustment and atmosphere creation
After the initial completion of character drawing and design beautification, lecturer NEMO will draw the background of the characters in the next step, which creates the overall picture an atmosphere suitable for the characteristics of the characters.
5. Characterization and refinement
In the final stage, NEMO will portray and refine the character details and supporting parts, including the character's hairstyle, cloak, gloves and other parts. To make the character design look more refined, he will do some retouching work in the finishing stage.
Through the entire study process, you will not only master the drawing processes of card illustrations but also learn various ideas and skills, which will enable you to draw artful card illustrations independently after learning the course.
Course parameters
Content: HD video + Project files
Duration: about 15 hours
Software: Photoshop cc2020
System: unlimited system
Suitable for students: illustrators, concept designers, card illustration practitioners, practitioners who encounter bottlenecks in the later stage
Project files: brushes, PSD files, other materials
Contents
Intro
Trailer(1m 23s)
Chapter 1. Intro
1.Introduction(31m 51s)
2.Observation(25m 25s)
3.Coloring(22m 3s)
4.Lighting(18m 26s)
Chapter 2. Sketching
5.Intro to Sketching(17m 40s)
6.Sketching 1(21m 4s)
7.Sketching 2(31m 23s)
8.Sketching 3(25m 36s)
Chapter 3. Design Modification&Head Refinement
9.Design Attempt + Head Refinement(32m 28s)
10.Design Modification(30m 1s)
11.Head Refinement(30m 1s)
12.Head Refinement_Color Matching(30m 36s)
Chapter 4. Background and Atmosphere
13.Background Adjustment 1(30m 20s)
14.Background Adjustment 2(30m 20s)
Chapter 5. Painting
15.Painting1(30m 20s)
16.Painting2(28m 46s)
17.Painting3(30m 57s)
18.Painting4(29m 2s)
19.Painting5_Hair(19m 46s)
20.Painting6_Clock(30m 20s)
21.Painting7_Various attempts(30m 20s)
22.Painting8(30m 10s)
23.Suggestions for Reference research(27m 55s)
Chapter 6. Glove Refinements
24.Glove Refinement 1(30m 21s)
25.Glove Refinement 2(30m 19s)
26.Glove Refinement 3(29m 47s)
27.Suggestions for Practice(32m 20s)
Chapter 7. Painting Refinement
28.Keep Painting 1(29m 7s)
29.Keep Painting 2(19m 37s)
30.Painting Refinement 1(29m 1s)
31.Painting Refinement 2(28m 27s)
32.Painting Refinement 3(30m 22s)
33.Painting Refinement 4(15m 6s)
34.Painting Refinement 5(31m 10s)
Step by step, the course will guide you to create exquisite card illustrations using digital painting skills. Nowadays more and more digital paintings have been widely used in games and commerce. If you master the technique, you will have a greater advantage in your future career!
---
Welcome to join our discord server and subscribe to us on social media to get more info, and have fun with your peers! https://discord.com/invite/2NzvDes