Masterclass: Creating a Real Time Character
Big news! Early this morning, I found out that the official Unity has released big news: Unity has successfully acquired Ziva Dynamics. You can read the official news.
If you watch it, you'll be amazed by Emma, the virtual digital human. How real she looks. The facial details are very real. You can see the details of the skin, the turning of the eyes, the manner of speaking, and the various fine lines on the face. Whether it is pores, fine lines other skin texture, or expressions on the demeanor, are very much like real human beings.
The main reason why some digital real time character look unnatural is because the facial expressions of digital people are not vivid. Especially in the linkage of lips and face, teeth, and even tongue when speaking, it is easy to have disconnected and unrealistic movements.
Regarding real time character creation, I have to mention this Masterclass from our Wingfox here. Real-time Knight Character Creation. Carlos Soares, as the lecturer of the class, is a Brazilian 3D artist specializing in real time characters. During his university years, he produced three short animated films, two of which received many accolades in international festivals such as Anima Mundi.
In this course, you will see how a real time character is created out of.
Collecting references
First, we will learn the thought process involved in creating a character concept. Then we will collect the first reference to create a story that defines the mood, style, goals, etc. of the piece.
We are going to create a female knight real time character with a sword. So we are going to look for relevant image references.
When looking for references, it's good to turn to real-life images and the work of other inspiring artists. Common sources of reference for us are Google Images, Pinterest, and Instagram, and you can always look for similar work by other artists on Artstation.
Techinal boundaries of the project and blocking the mesh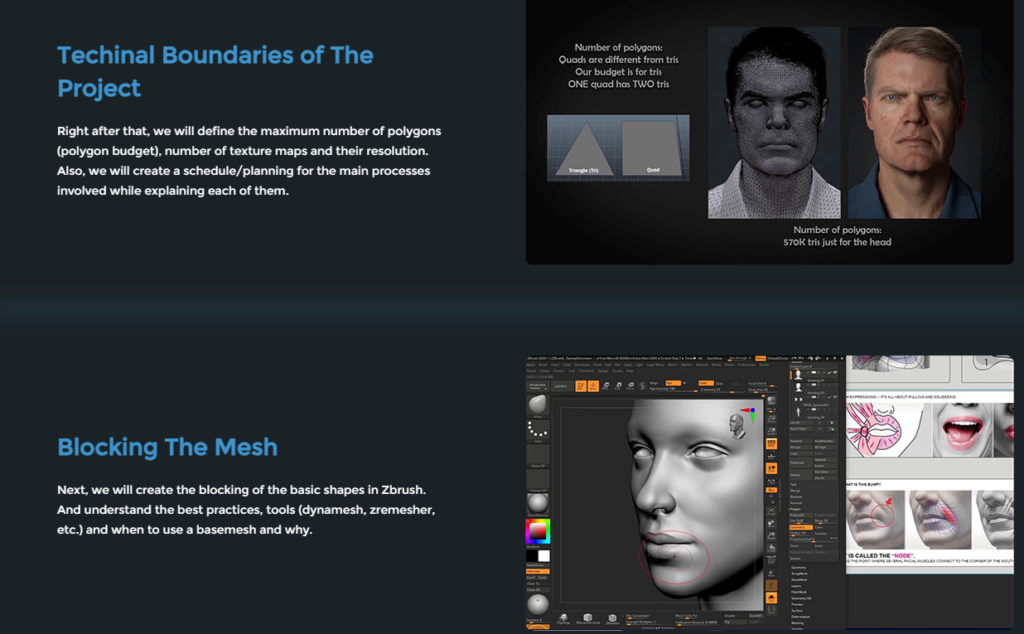 Detailing and refinement and retopology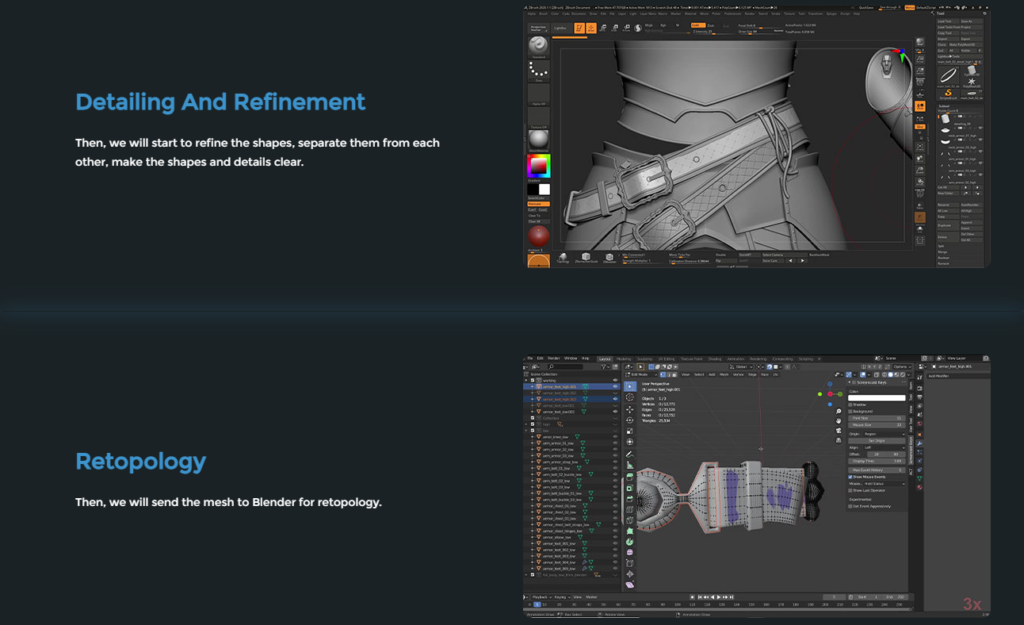 UV mapping and baking of base maps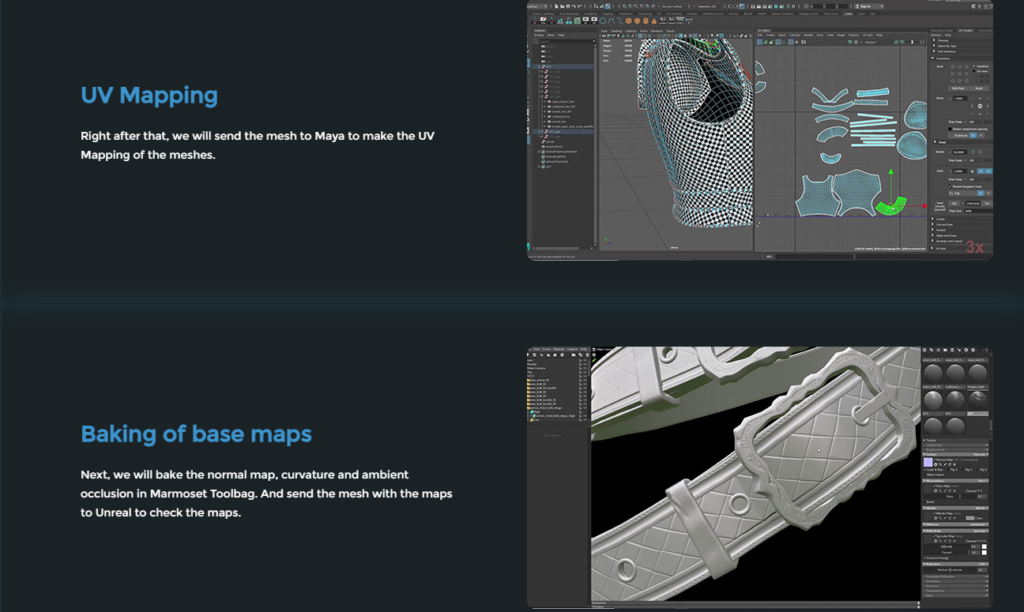 Texture Design
To get a more realistic real time character, we will learn the basics of the software and the workflow. Then we create all the textures for the character except for the face.
Facial details (pores) and textures
We will use textures to create a replacement map for the head. And send the replacement map of the head to Zbrush and finish the detailing. In Marmoset Toolbag, we will bake the head details and send the map to Substance Painter.
Hair grooming of real time character
We will use Xgen to create hair cards in Maya. Then we will create the hair in Blender using curves. By the way, you can also review the article we posted before: 7 Steps to Effective 3D Hair Creation
Rendering and bonus-human IK rigging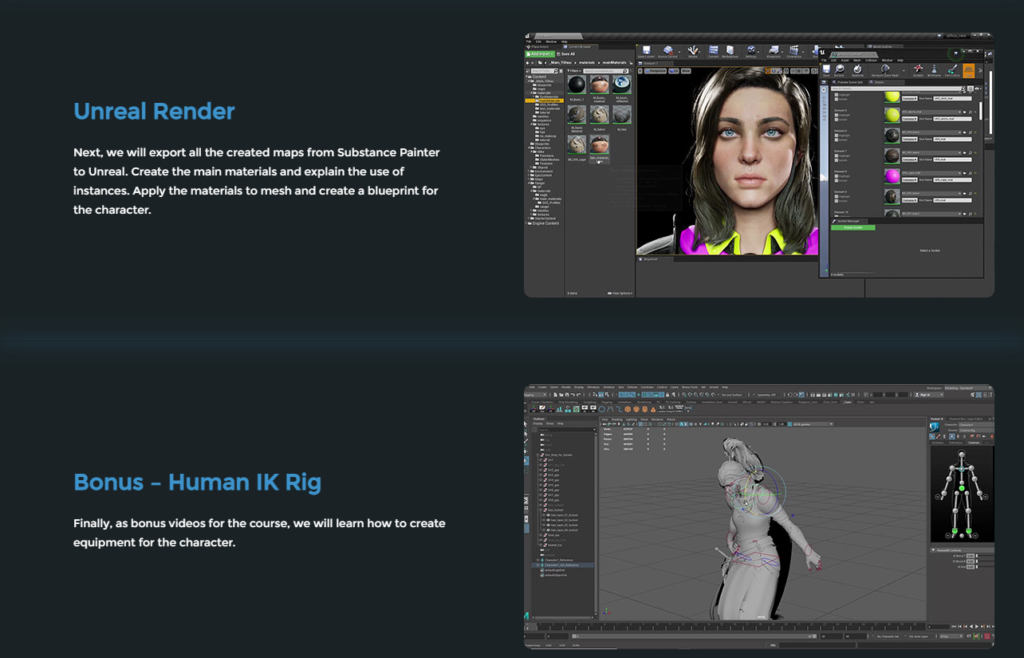 You will learn how to think and perform all the necessary steps. And render realistic real time characters in a real-time engine like Unreal Engine.
You will understand the importance of creating a story for a character and try to find the best shape to represent it. Then, you will create a rough shape in Zbrush to flesh out this idea in 3D.
And, you'll sculpt, model, and re-topologize models in Zbrush, Maya, and Blender.
The texturing will be done in Substance Painter and the mapping will be baked in Marmoset Toolbag. Once everything is ready, you will learn how to import all these assets in Unreal Engine, create basic materials and use advanced materials to set up the scene to be rendered. Finally, there is a bonus where you will learn how to create basic rigs using the Maya Human IK tool.
The master class will have an assignment component. After submitting your assignments, you will receive feedback from the instructor, providing you with actionable steps to take your work to the next level. And, you're not the only one on the road of real time character creation. You can get help from others and learn from others. Most importantly, you'll get feedback from your instructor. Plus: This course supports full payment and installment payments.
If you are interested in our master class on real-time character creation, feel free to join the course to learn.