Get To Know The Illustrators
Clear / 2D Charaster illustrator
Drawing a Character Illustration in Graduating from Fuzhou University, she has entered the game industry since graduation. In the years she spent in a R&D company, she has developed a complete painting procedure through continuous training, which is applicable for most original paintings and publicity work on the market. Her fan work SINOALICE: Alice with Instrument has gained widespread praise. Other
Works included: Advancement the Judge, Epic the Judge Avatar in Migu Circle, Elves and Hunters,The Beauty of Youthful Romance.
Fortunately, Wingfox collaborated with this great illustrator and she created a new work called Searching for the Light.Once the course is pre-sold, it is favored by many 2D artists,Buy now for the instant best price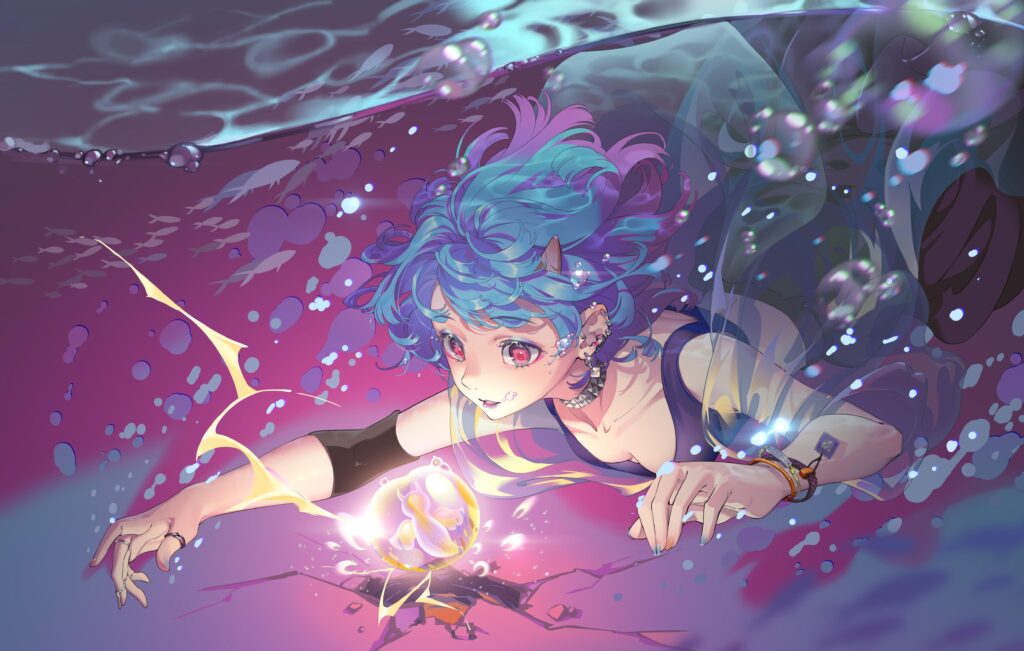 Step by step, this illustrator will show you how to put your vague ideas on canvas. You can create a highly completed commercial illustration from scratch, with rich content in foreground, midground, and background. The materials used include skin, hair. metal, matte fabric, translucent tulle, and transparent bubbles. Each section is explained in detail.
Tim Liu, a freelance artist,illustrator
In his long period of figure portrait and concept design, He learned that the more complicated and high-leveled works request better basic skills. Only by the persist self-request can we got to the core of aesthetic design. Therefore,he'll provide some experience and opinions about figure portrait for you, I hope this can help the beginners and on-the-job art newcomers solve the puzzle and find the way forward.Similarly, he also has many excellent works.
As a Wingfox illustrator, he provides applied illustration tutorials for realistic artists: Realistic Portrait Painting Processes and Techniques.

In this tutorial, the lecturer will use portrait to improve the understanding of light and shadow and human structure, and to shape the perspective by applying the characteristics of brushes and layers. This course is divided into two parts. The first part is to get familiar with the basic operation process of bust of a figure, and the second is the whole figure and its basic knowledge and skills that we need to know about.
The learning process will start with how to find the appropriate practice materials, how to compose a figure and how to arrange the composition. Then we will continue to extract the skeleton of the character, find the key structure point of the face and the body to be the reference of the sketch. Then we will finish the gray level by using the color blocks, and analyse how to draw the facial features and the body, and finally coloring the picture after the gray level.
Wong Yu Ing (Fishman) / Senior Concept Artist
2012-2016 Concept designer (participated in a number of mobile game apps and VR sci-fi shooting game concept design); 2013-2015 (Astro Little Sun comic coloring); 2017-2018 (promotional posters, game card illustrations); 2019-2021 (Game card illustrations and game characters, conceptual design of items).
Projects participated: RPG & Action apps game, Fantasy strategy game Divinity Saga, Sports game, VR sci-fi shooting game, VR punk shooting game.
In this tutorial, illustrator divide it into 4 chapters which are Tools Intro, Creative Outline, Bunny Black and White, New Year Alice. At the very beginning of the Tools Intro, I will show my workstation, how I use my figure lighting desk to understand lighting, what tools I used for collecting references, and the brush I used and its update. In the Creative Outline Chapter, I will tell you how I changed images into lines and how I stitch a new concept of art with them. There are four examples showing you how I changed the images to lines.
In the Bunny Black and White chapter, I will show you how to use black and white—— the two contrastive colors coloring on a character and how to apply the other colors on the black and white color base. In the final chapter, I will show you my color shading techniques. I also provide files of each chapter that you will need so that you have no obstacles in studying. In this tutorial, you could explore the possibilities of photoshop in painting. Students can sprout from my knowledge to explore new functions and build their own paintings skills.
Considered one of the most popular 3D modeling, animation, and rendering applications in the CG industry, Cinema 4D has a designer-friendly interface and a super powerful toolset. Although it is known as "simple" 3D software, its output packs a powerful punch. For these reasons, Cinema 4D has become a favorite among digital artists who want to create stunning 3D art.