Upgrade your Character Design with Unreal Engine 5
When Unreal Engine 5 was released, many people were amazed by its promotional videos – statues with visible textures, lifelike birds of prey, and realistic and detailed characters. Compared to Unreal Engine 4[review:UE4: The Rendering Software You Can't Ignore], it implemented dynamic global lighting and true virtualized geometry.
According to Unreal Engine officials, with this upgrade, they bring two new core technologies: dynamic global lighting – Lumen; and true virtual geometry – Nanite. Unreal Engine 5 includes many cutting-edge new features for 3D artists to use. Nanite technology is groundbreaking because it allows developers to use cinematic-quality assets almost for free. In addition, the Lumen system makes it easier for games to have realistic and dynamic lighting.
Light-tracking lighting, hair bundle-based hair capabilities, a news editor, and enhanced real-time rendering open up exciting new possibilities for character design. The following provides 6 tips for character design in Unreal Engine 5 which you may find very inspiring after reading.
1. Access to MetaHuman assets
MetaHuman assets are an amazing resource from Epic Games and they are available for free. There is no need for artists to do everything from scratch, especially when the best quality is already available for free. You can download MetaHuman Creator from the market and copy it locally. Then you can set it up the way you like and start using it. If you forgot to set up a raytracing, it doesn't matter, as it' s not difficult to enable these features.
2. Exporting hair to Unreal Engine
Real-time rendering of hair is one of the main features being tried in Unreal Engine 5 this time around. You can create retouching as usual and then export it to Unreal Engine. Then convert it to an interactive Groom with the ability to export it as a .abc cache. Getting the curves into the engine didn't disappoint. It was much better to see the actual hair than the card.

3. Experiment with hair material
When starting to make a hair material in the material map, you find the Hair Properties node, a new node dedicated to strand-based hair. You can use it to make gradients from root to tip. So by Lerp-ing several colors, you can achieve a very cool look with relatively simple settings.
4. Stealing eyes
Eyes are always important for characters, and they are hard to look good in real-time renders. For a while, Unreal Engine had a great eye material that had tons of features and they encouraged people to use it in their projects and games. Now, certain features have been hardcoded into the engine, so the material requires specific UV layouts and models. So, you can extract the mesh from the MetaHuman file to make sure everything works properly.
5. Mastering Materials
In Unreal Engine, you need to own or make master materials to create instances that can be applied to your model. By using the skin and fabric materials in MetaHuman Creator, all the work of creating a network for the features you want is already done. It's just a matter of figuring out what kind of textures you are looking for, or which features to turn off. The material requirements are fairly simple – micro-weave and fuzz on the fabric are some of the key elements most artists are after.
6. Using the Movie Render Queue
If you're using the Movie Render Queue plug-in for the first time, you'll be able to render large images and movies with a variety of file formats, resolutions, and oversampling anti-aliasing. There are many features in this plug-in that allow you to create large, clean images that you would not otherwise be able to do.
Generally speaking, most of the special effects models we see are built with Quixel's Megascan resources, but Epic is not using its version of the game, but the film and television versions that are usually only used in movies. In other words, the future of the game will be built with film effects-like resources.
If it is really like what is shown in the promotional video, Unreal Engine 5 will definitely bring a significant increase in the efficiency of the related industry and greatly shorten the production cycle of art products.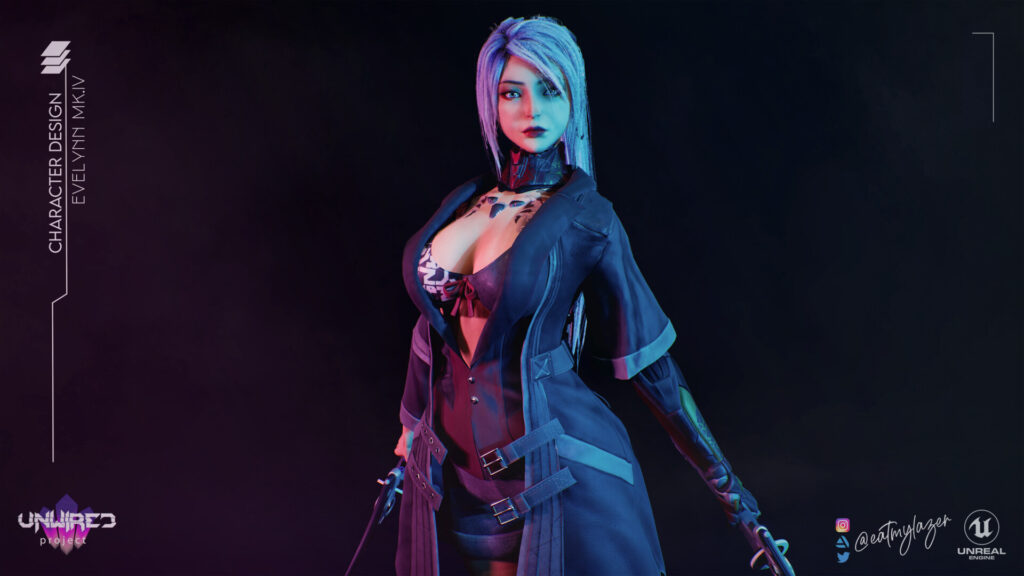 If this is the current trend of the industry, then the entire industry pipeline will be updated and iterated, and many traditional technologies will be abandoned. The future may no longer require so many complex optimization tools, and the various tricky rendering techniques may not seem too meaningful from an industrial perspective.
Thanks to the rapid iteration of real-time rendering, we can use the engine to quickly adjust the visual effects we want, and once the whole preview process no longer requires complicated importing and tuning, the artwork efficiency can be increased several times. Plus, the rendering is already so realistic and detailed that offline CG rendering doesn't seem necessary anymore.
Keep up with the most advanced technology and keep improving your own creative skills. If you want to learn more about character design skills and knowledge, welcome to Wingfox to continue your learning journey. By the way, when you're prepared to pay, remember to put in the promo code: blog10. Then you will get 10% discount if you purchase tutorials to learn.
[Workshop Fundraising] Animation Background Concept Design in Blender