4 Art Composition Design Tips
Teach you to Quickly Design Keyframes for Movie Shots
Art composition has a wide range of applications. Whenever you want to express your ideas accurately and completely in various art forms, you need to compose them. An animation or movie, for example, is essentially a certain number of frames played in succession over a period of time, known as keyframes. Artists create compositions to determine keyframes, and the point of keyframes is to free up the elite workforce, allowing skilled senior animators to focus on creating and drawing key parts of the action, freeing them from the repetitive mechanics of drawing non-key movements.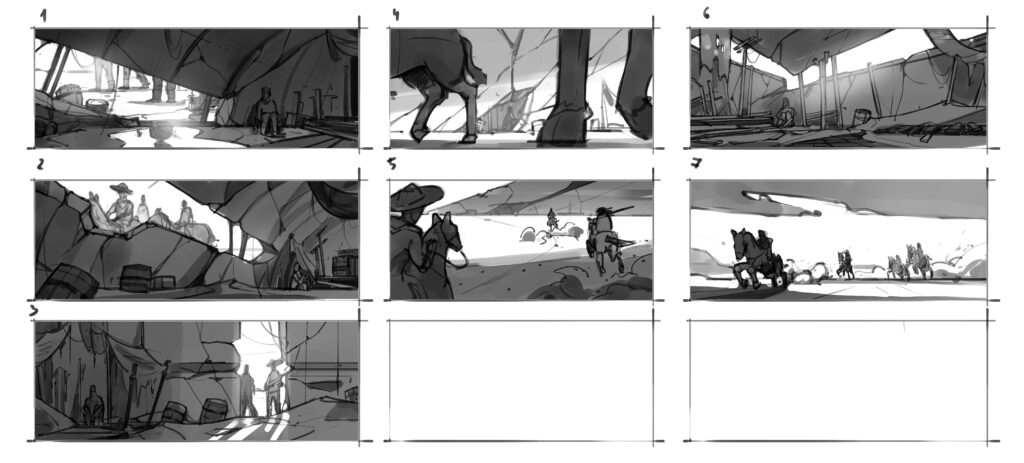 Why do you need to learn art composition?
In order to make a good animation, we need to make the keyframes good. How to make a good keyframe, it comes to our composition. Composition is the practical process of arranging artistic images into an inherent artistic form in a unified way. When a shot covers an actor, action or event in a given frame like a painting, we have to look more closely at how you want to fill the frame with important subjects or information.
The point of art composition
In general, art composition is about placing the desired elements in the right places. That is, where to place the actor's head in a close-up shot, or where to place a lone tall tree on a vast plain of pasture in a long shot? Nor is it just a question of where to place it, but also why. The placement of these visual elements in the overall picture is very important and will convey a specific meaning to the viewer.
There are many classic compositions in film and television, and they are similar to those in graphic design, concept design or other designs. The composition of a shot is very important for a film. For example, from the composition of a scene, we can clearly analyze the mood and metaphor conveyed by the film.

Elements of art composition
When creating our work, we should take the subject matter and the theme idea, and organize all the images to be shown to form a coordinated and complete picture. Exploring the basic elements of design composition will help us to improve our compositional skills. What are the basic elements of design composition?
When we start to compose, we need to select various elements, organize and arrange them carefully, and reflect the overall effect of the work by handling the layout. According to the general law of creation, the process of creation will be a combination of conception, intention, composition, modeling color, material techniques and so on.
The idea is mainly based on the accumulation of experience and experience in life, while the concept is based on the expression of subjective emotions and ideas. The art composition will establish the theme of the picture and the basic form of expression of the picture.

As an example, a line represents a "path" between two points. Lines can be straight or curved, vertical, horizontal, diagonal or Z-shaped. Lines imply movement to indicate position or direction, and they imply certain emotions. Horizontal lines indicate serenity and stability, while vertical lines indicate power and strength. Diagonal lines imply movement, action and change. The curve or S-line symbolizes the beauty of flow and rhythm. Line is a powerful element in design because it guides the viewer's eye and quickly expresses the theme.
Among them, in the 3d art composition, we should pay great attention to the processing of light and dark rendering of key frames. It is an important means to deal with the composition of the picture, which can express the emotion and reflect the creative intention.
As a constituent element of the picture, color plays a pivotal role in the composition. Designers can obtain strong artistic effects through the color design and selection of picture elements to render the emotional tone and specific atmosphere of the theme and content.
Learning keyframe composition online
From the brief introduction to keyframing and art composition above, you should be more impressed with that. Overall, if you want to have a better understanding of cinematography shots, check out this course: Keyframe Design For Cinematic Shots. In this course, the instructor will introduce you to the basic rules of proper composition and how to convey story and emotion in an engaging way.
Also, you will learn how to actually handle the sculpting of heroic elements in 3DCoat to reach the maximum potential of 3D rendering in a short time. In the final part of this tutorial, the instructor will overpaint the renders and bring them to a polished look in Photoshop. Also the instructor will talk about the main tools and techniques used on a daily basis to keep the whole workflow efficient.
After you finish this tutorial, you will have a more thorough understanding of film shots in general and can communicate your ideas in a more relaxed way. You will also understand the principles that cover art composition and design when it comes to keyframes, and you will have more creative ideas when you create later. Later, you will also use atmosphere, lighting and rhythm to convey the story through your drawings.
Of course, you will also become more familiar with the operation of 3DCoat and Octane, which can greatly improve your work efficiency.
Plus, if you join the course now, you'll get a 10% discount.
Coupon code ↓↓↓↓
blog10
You need to copy and paste the above coupon code into the "Apply Coupon" and click "Enter" button. Welcome to Wingfox, where you can get various tips of art composition you want.
More related information: The Benefits of Rendering and Use Cases in 5 Industries