What's The Difference Between 2D Animation and 3D Animation?
If you plan to learn animation, you must understand different animation types and styles. Before learning animation, the first question you may be asked is which animation do you want to learn, 2D Animation or 3D Animation? These are the two main animation techniques that will define the flow of the video creation process. In this article, we introduce each style in detail, including its benefits, downsides and price comparison. Keep reading to learn more about all of this!
What is 2D animation?
2D animation is one of the most traditional animation styles. Almost all animated TV shows are produced in a 2D environment. Modern 2D animation videos can be hand-drawn or computer-created. However, in both cases, the creative process takes place in a two-dimensional environment, whether it is paper or a computer program.
2D animation usually looks like a flat image, where characters and objects imitate movement. It is measured by height and width. The effect of depth can only be produced with the help of perspective, and sometimes even flat shadows. In the 2D animation video, all objects move in the plane dimension. 2D animation usually focuses on storyboards, backgrounds, and characters. Although the production process of 2D animation video looks much simpler, it still requires a lot of technical skills and creativity to make the final product look first-class. The 2D animator creates frames to define the image sequence.
The cost of 2D animation production is usually much lower. This type of animation is very popular in TV movies, cartoons, video games, and TV commercials. It is also frequently used in various business fields, including healthcare, financial services, aerospace, engineering, technology, etc. 2D animations are usually created in the following software programs: Adobe After Effects, Adobe Animate, Adobe Flash Professional, and Anime Studio. The most famous examples of 2D animation are Duffy Duck, The Little Mermaid, and Snow White.
What is 3D animation?
3D animation is three-dimensional, which is made by modeling. After the model is built and the bones are bound, the animator manipulates the bones to let the characters complete the action; the three-dimensional animation is more realistic, with a lot of parameter rendering and light Tracking makes the picture close to the real environment. There is no concept of number of sheets, and it looks smoother visually. It is the advantage of 3D animation (three rendering and two are essentially 3d animations, but the edges of the model look like 2d through rendering and calculations.
This kind of animation is usually made using software programs such as Ds Max, Cinema 4D, Autodesk Maya, ZBrush, Houdini, and Blender. Therefore, it is usually accompanied by the term computer-generated image (CGI). In 3D animation, you can move the lights and camera just like in the real-life movie production process. The best examples of 3D animation are the movies "Frozen", "Toy Story", "Despicable Me", "Madagascar".
3D animation production is very vivid, with a proper budget, 3D can complete special functions and vivid lines. When it comes to providing a perfect product, no other visual media can match the capabilities of 3D animation. 3D can create a good scene and leave a lasting image. High-quality three-dimensional animation can use a virtual camera to create a sense of movement and scale.
3D animation production has become a hot topic in the entertainment field, and it is very popular in marketing, network, outsourcing media, mobile media and other fields. 3D animation is eye-catching and provides a powerful and effective way to express the entire enterprise in a more attractive way through 3D animation, and present its products, services or themes to customers.
What is the difference between 2D and 3D animation?
As you can see from the description above, 2D and 3D animation types are completely different, and they require different types of skills.Here are some basic differences:
2D and 3D animation is that two-dimensional objects represent their height and width characteristics, while three-dimensional models also have depth indexes. In other words, 2D animated characters do not look like 3D characters.
The main technical difference between 2D and 3D animation technology is that in traditional and 2D animation, animators use separate frames, while in 3D animation, there is always a continuous flow. Even if the object or character remains in place, there will always be a continuous stream of frames, which creates the illusion of reality.
In terms of design concepts, it is best to use 3D animation because it shows a wide view of the object. If you create a 2D model, you will not be able to view the specific parameters of the generated object, so you cannot adjust it.
If any errors occur, it is easier to fix them in the 2D animation. In this way, the animator only needs to redraw specific images or actions. Nevertheless, 3D animation provides more software possibilities for modeling and repairing objects and characters.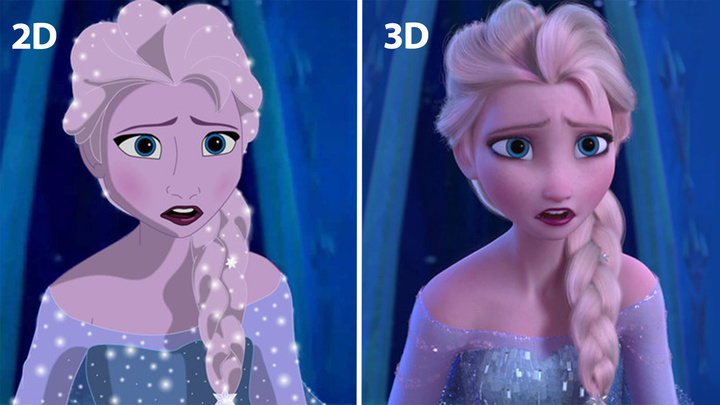 What's better: 2D or 3D animation?
Actually, there is no single answer to this question. It all depends on the animator's expertise, professionalism, and creativity. While 3D animation offers many benefits over 2D animation, it's more expensive to produce. 3D animation requires many more interactions and involvements. Also, it takes much more production time. However, the result is usually impressive since the 3D animated video looks more realistic. You should keep in mind that you can also combine both styles and create a vedio where 2D and 3D imagery complement each other.
Conclusion
The animated video production process is complicated and usually takes many steps, including scriptwriting, storyboarding, illustration, animation, voiceover, and sound design. There are two primary animation styles, 2D animation, and 3D animation.If you're looking for a reliable 2D or 3D animation online classes, look no further. Connect to us , and get a free consultation! We are always happy to help you make your dreams come true.
If you are interesteing in CG topic,click the site below to know more info: What is the Experience of Becoming a CG Designer?