How To Make a Good Character Rigging
Rigging is a very important process when it comes to animation. We all know that the character model can not be animated by itself. If you want to make a static object move, you need to do character rigging.
So
What is rigging?
Well, the rigging we are talking about here is not the ropes and chains used on board. In the animation industry, rigging is a technique used in skeletal animation to represent a 3D character model with a series of interconnected digital skeletons. Specifically, rigging is the process of creating the skeletal structure of a 3D model. In common parlance, this skeletal structure is used to manipulate the 3D model, just like a puppet in animation.
Character rigging is most common in the animation of games and movies. It simplifies the animation process and increases production efficiency. As soon as the skeleton is used for rigging, then any 3D object can be controlled and distorted as needed.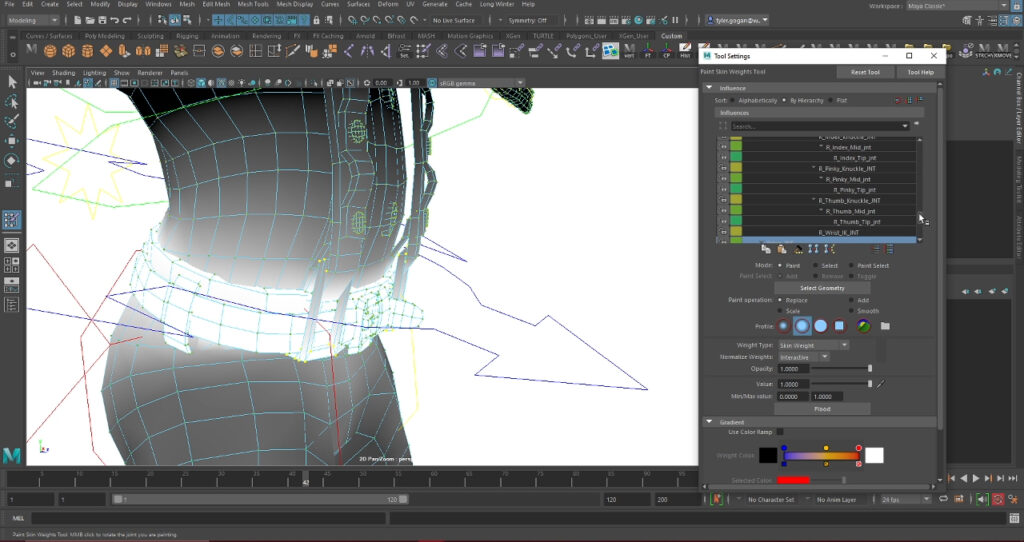 Rigging Software Introduction
There are solutions for model rigging available in most 3D animation packages.
Maya, 3ds Max, Blender, Cinema4D and Houdini all include skeleton animation capabilities. Due to the limitation of space, we will talk about the detailed introduction specifically later.
In general, most riggers prefer to work in Maya. So We will next discuss the creation of character rigging in Maya.
How to make a good character rigging
It is not so easy for a beginner to make a rigging. Here are a few things to keep in mind in character rigging.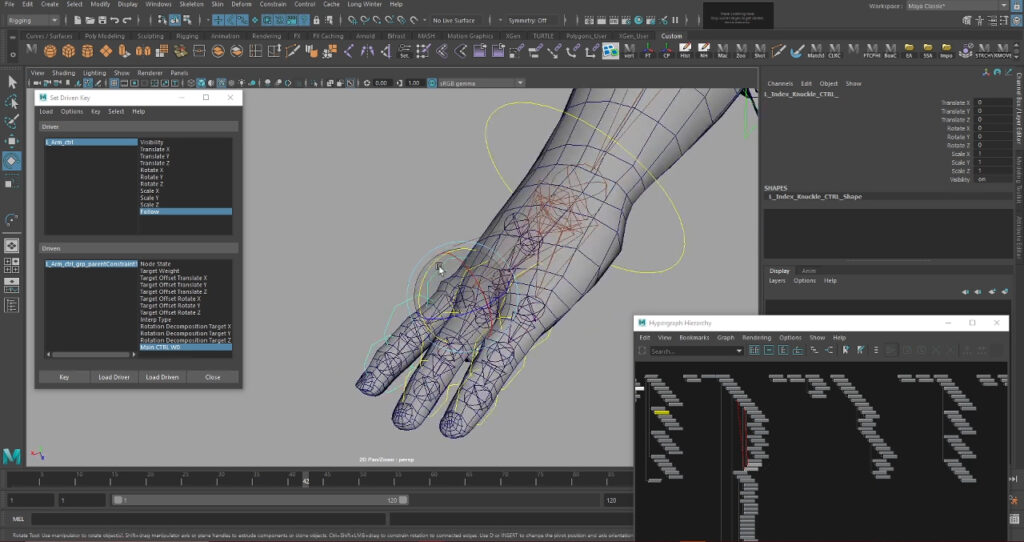 IK Handles
IK is the inverse process of forwarding kinematics, which is often used as an effective solution for binding the character's arms and legs. Once we have placed the bones, we will use the IK rig, terminating joints placed directly by the animator, while the joints above the hierarchy are automatically interpolated by the software.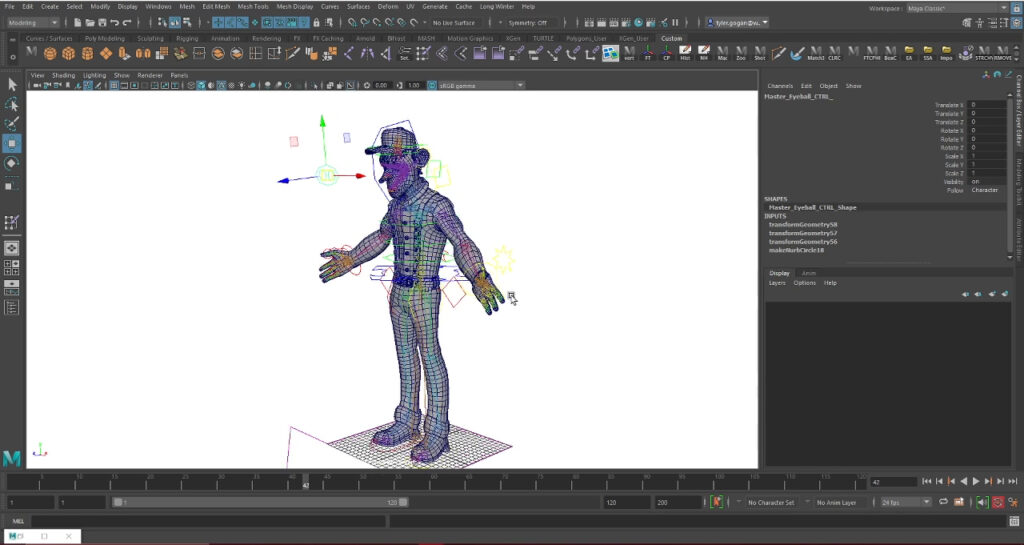 Degrees of freedom/constraints
When assembling, keep in mind that in the real world, joints such as elbows and knees are limited to a single degree of freedom. This means that they can only bend along one axis. Similarly, the human neck cannot rotate a full 360 degrees. To prevent unrealistic animations, it is best to set joint constraints when building your character rigging.
Weight Painting
Weight painting is an integral part of the rigging process. The computer is usually able to automatically weight paint the model, but sometimes with ineffective results. To get great animation, it is important to fine tune the weight of each bone. Since some characters share the same bone structure, it is possible to duplicate the entire character rigging and assign it to a new mesh. The animation can be replicated in this way, or models with similar designs can be easily created.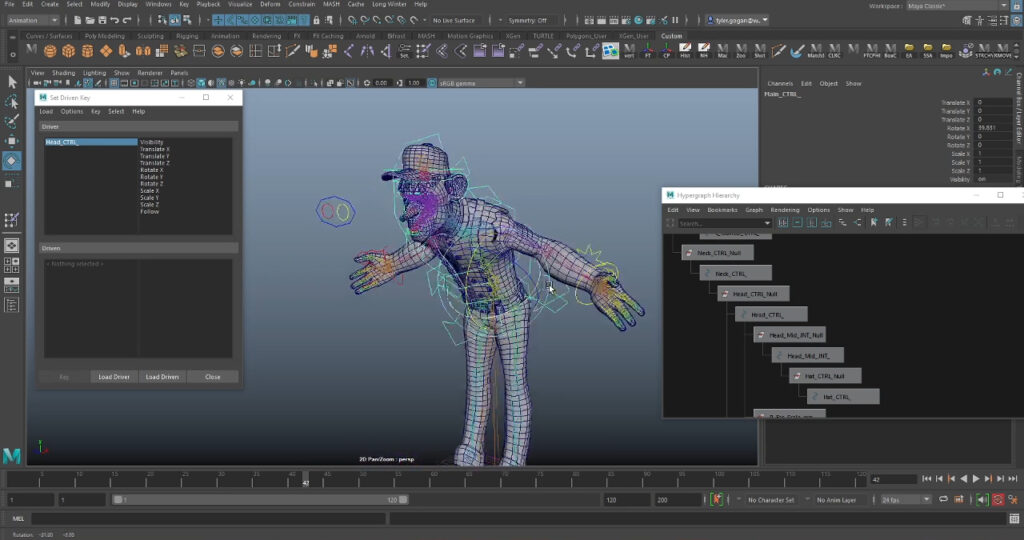 Facial rigging
A character's facial rigging is usually completely separate from the main movement. It is incredibly inefficient to create satisfactory facial rigging using traditional joint/bone structures, so deformation targets (or hybrid shapes) are often seen as a more efficient solution. Facial manipulation is a subject in itself. For facial rigging, our previous article may be of great help to you: Make Character Facial Expressions in Animation More Expressive
If you want to refine your character rigging skills, you can check out this tutorial in Wingfox : Rigging 101 for Stylized Game Characters | Maya 2020.3.
In this course, we will create a complete character rig. You will learn in it industry-standard methods that the instructor has refined over years of experience in the gaming industry.
We want to make the learning process easy for you to understand, covering all the tools and rigging concepts. There will even be some tests, so be sure to take notes. Learning 3D rigging can be overwhelming, so be sure to pace yourself.
For those of you with rigging experience, you will learn tips that will speed up your current workflow and help you improve your skills.
You will:
Learn about the tools and concepts for assembling characters in Maya 2020.3.
Learn the details of rigging a bipedal character – from absolute start to finish.
Learn to build rigging, skeletons, and controllers for your rig from the ground up.
Fully rig and skin a stylized character to get it ready for animation.
Here are the details about rigging for you to learn. If you purchase a course now, you can also get a discount!
If you are new to Wingfox, then when you sign up and log in, you will enjoy the newcomer benefits: 15% discount on class purchases and a 7-day Plus membership experience.
For more digital painting art content, please stay connected to Wingfox.